Once again, here are my inspirations: this first picture is from the
Vivid
website and it costs $116, which is why I sew, even when I fail to achieve my desired look.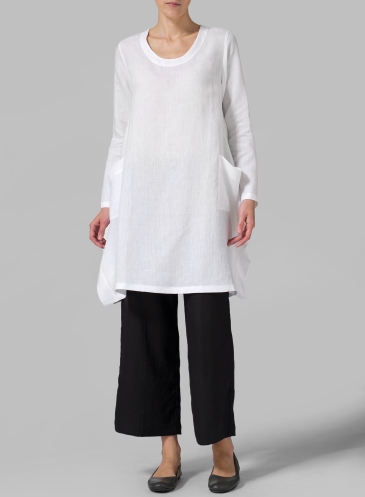 It is pretty hard to see it below because it is white linen on a white door, but I think I have the pullover body skimming shape at at last. The loose fit, the nice drape is there and straight hem, as well as slanted pockets are all in response to viewer comments. Thanks! And I agree.
I wanted to make it longer, but I barely squeaked out this length with the 2.5 yards of linen/rayon on hand.
I'd probably wear this with leggings or jeans, as a shirt, but in the warmer weather, as a dress with bare legs and sandals.
The neckline was a teeny bit gaping so I added a buttonhole and abalone shell button, resulting in a soft pleat. It works. But next time I will decrease the size of the neckline, making sure it will still go over my head.
Curved bottom, slanted top, caught in the side seam pockets, all my faves.